Garden District Tree Adoption Program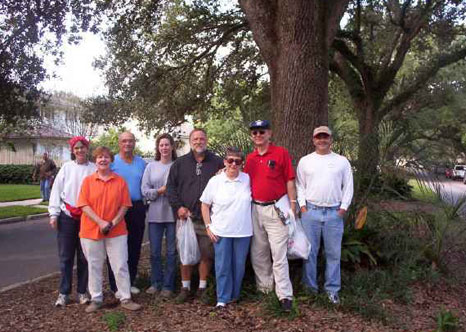 The census takers (from let to right) are Mary Fontenot, Margaret Bach, Sam Bass, Sandra Stokes, Erskin Mitchell, Suzanne Schexnayder, Mike Schexnayder, Russ Hodgers and Diane Geheber (not shown)
In 2006 Suzanne Schexnayder developed the tree adoption for the trees on the medians of Park Boulevard, Cherokee Street and Klinert Avenue. In October, she recruited census takers to measure the girth and span of the 164 trees.The results of the Oaks on the Medina tree census and the adoption program are available here. Over eighty Garden District median oaks are listed on the Louisiana Garden Club Federation – Live Oak Society webpage.There are no fees to adopt a tree.
Procedure Used To Adopt The Trees Of The Medians
---
The oaks lining the medians on Park, Kleinert, and Cherokee have been targeted for adoption by residents who will primarily keep these trees watered during dry spells, and watch for damage to the trees, or other signs of stress. Residents will try to see that "No Parking" ordinances on medians are enforced. Residents may also elect to have mulching parties (the city will supply the mulch). The landscaping dept. has also promised a printout of basic live oak care for each guardian. No one is being asked to spend money for arborist services.
The Live Oak Society is a program that originated in Lafayette in 1934, but has spread throughout the south and California. A live oak whose circumference is 8 feet or greater may be registered with the Society. At this time, there are 80 oaks along the three medians that are eligible for LOS membership. To enter LOS, each oak must also be given a name. In our adoption program, the adopter(s) get to name his/her/their tree.
These oaks will be listed by LOS as a "stand". We are calling our stand "The Garden District Live Oaks".
To adopt a tree, call 344-4431 or e-mail me, and I'll help you locate an available tree. If the tree is LOS eligible, I need a name QUICKLY. It the tree is not yet 8′ in girth, you may still name it (In fact, I wish you would.), and when it reaches 8′ it will be registered with LOS.
About 70 trees have been adopted so far. Not all 70 are 8′ or larger, so there are several still available that are going into LOS, and need names NOW.
Mary Fontenot has designed a beautiful certificate that guardians receive for each tree adopted.
The oaks on Terrace Ave. have not been the subject of this program because they are not large enough for LOS eligibility, but they do need care. Anybody who wishes may adopt Terrace Ave. trees, and we'll add them to the tree survey.
The tree adoption program will be on-going in the Garden District, but anyone who wants to name an 8-footer has to do so NOW.
---
Suzanne Schexnayder344-4431[email protected]
Adopt an Oak Tree