The Garden District Civic Association
\r\n\r\nThe Garden District Civic Association was established in 1976. The catalyst for its inception was a rezoning hearing concerning a house on the corner of Drehr Ave. and Government St. Neighbors individually noticed the rezoning sign and with no coordinated effort attended the rezoning meeting. When about eighty people attended they realized how much the neighborhood meant to all of them. Soon after, at "Casino Night" at Catholic High, neighbors were talking about it.\r\n\r\n
\r\n\r\nFran Beck, who still lives on Terrace, came up with the idea of forming an organization. While at a social gathering at Bill Morgan's house, the topic came up of how impressed they all were as to the turn out and the spirit that led to a victory for the neighborhood. David Norwood suggested they call it the Garden District since Baton Rouge didn't have a district with that name and it gave a good image, like the neighborhood in New Orleans. Fran Beck said, "Let's do it," and it was done.\r\n\r\nFran followed up with a brunch to discuss it further. They got by-laws from somewhere else. The by-laws were hashed over and over with changes until everyone was satisfied. They continued their discussion at a progressive supper with cocktails at Cammie and David Norwood's house, dinner at Anne and Paul Marks', and dessert at Robert and Peggy Singer's. Ferrol Foos was the first president of the organization.\r\n\r\nOne of the early social activities that the association sponsored was a neighborhood Easter Egg Hunt. Goudchaux's Department store loaned us a giant, green, plush bunny suit, which Willie Fontenot wore as he hopped around the yard at 714 Drehr Avenue distributing giant organic carrots with their green tops still intact. The activity was such a hit that it has continued every year since. Street parties were allowed back then so we took advantage of the opportunity and had great fun.\r\n\r\nThere are several octogenarians who grew up in the Garden District and still live here. There are some families with several generations living in the Garden District.\r\n\r\nAssociation activities have included 4th of July and fall neighborhood picnics with best dessert contests, ice cream socials, a roller skating social, Easter egg hunts, Holiday Lighting contests, Christmas caroling, a neighborhood garden club, political candidate forums, a garage sale, and the Tour of Homes.\r\n\r\nAssociation projects include installation of entrance signs and bollards, relighting of the lights at Government and Drehr, holiday decorations at the entrances, beautification activities, a community garden, and the adoption of the oaks on the medians of Park Blvd, Kleinert and Terrace.\r\n\r\nA newsletter has been delivered door-to-door several times a year for many years notifying residents of upcoming events, any information that might be helpful, and some history. A website was developed in 2008. An e-mail list server allows residents to distribute email messages to the list server members. Topics include neighborhood news, lost and found animals and belongings, suspicious activity. For further info see this page.\r\n\r\nThe Civic Association covers the three subdivisions: Roseland Terrace, Drehr Place and Kleinert Terrace. See the map here.\r\n\r\nThe Association's board of directors, bylaws and minutes of meetings are available on the civic association link on the left side of the home page. The Association is a member of the Baton Rouge Federation of Civic Associations (http://www.fgbrca.org/ ). The vast majority of membership dues pay for off-duty police security. An Income and Expense statement of the association can be downloaded here:\r\n\r\n
\r\n
Annual or Quarterly Dues
\r\nNotice: You can use your credit card and you do not need a PayPal account to make a payment.\r\n\r\n
---
\r\n\r\n
To join online,
please use the button to send your payment through PayPal and your name, address, phone number and email address will automatically be sent to our GDCA yahoo email address to be included in our membership database.\r\n\r\n
To join through the mail
just send your name, address, phone number, and e-mail address along with a check made out to Garden District Civic Association to\r\n
Treasurer\r\nGarden District Civic Association\r\nP.O Box 4113\r\nBaton Rouge, LA 70812
\r\nDues can be paid quarterly ($30/quarter paid in Jan, April, July, & Oct) or yearly ($120/year). If you pay in full on or after October 1st your membership is for the remainder of the current year and for the full subsequent year.\r\n
How are your dues used?
\r\n
\r\n
Most of GDCA Membership dues pay for off-duty police security patrols.

\r\n

They pay for social events such as the Easter Egg Hunt, Back to School Party, Neighborhood Yard Sale, Fall Social, Champagne Stroll, Holiday Party and Caroling, Christmas Light Contest, and Crawfish Boil.

\r\n

They pay for PR and communication including GD advocacy, the web site, list serve, new-member packets, and for beautification projects.

\r\n

They pay for any newsletter costs not covered by ads.

\r\n
\r\nQuestions? Contact Dorothy Prowell, Assistant Treasurer at [email protected] or (225) 387-0867. Thanks so much!\r\n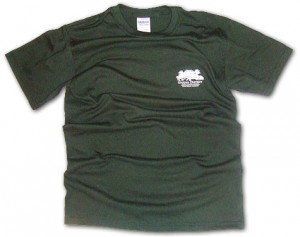 \r\n
Get Your GDCA T-Shirt Here!
\r\nThe GDCA T shirts are printed up and ready to go. There is a limited supply to start off with so let us know if you would like to purchase one by check by contacting us here. Or you can use your credit card with our PayPal account by selecting the button below!\r\n
\r\n
The cost is $12.00/shirt.

\r\n
\r\nThe GDCA crest is printed in white and is on the front, and the drawing of the view of park blvd by neighbor Jon Emerson on the back is also printed in white on a green shirt:
The Association