From the City of Baton Rouge
HURRICANE DELTA PREPARATIONS
Neighbors,
We are monitoring local weather conditions and the path of Hurricane Delta as the storm continues to develop, with landfall expected later this week.
While we have been through this exercise many times already this hurricane season, it is still critical to remain vigilant for this and every major storm that comes our way. Please take a look at your household emergency plan, update it as necessary, make sure everyone in your household knows and understands it, and include planning for your children, pets, and other vulnerable populations. Keep enough supplies on-hand for at least three days, secure loose items in your yard, fuel your vehicles and generators, and monitor our local radio and TV stations for the latest forecasts.
We have also updated our City-Parish emergency page with links to sand and sandbag locations, closure information, weather and stream gauge maps, energy outage maps, and more. Visit this page here and check back regularly for updates at brla.gov/emergency.
Remember to follow @RedStickReady on Facebook, Instagram, and Twitter for official, real-time updates from our Mayor's Office of Homeland Security & Emergency Preparedness, or text "RedStickReady" to 225-243-9991 to opt in for informational text message updates.
We are still in the middle of a pandemic, so be sure to practice social distancing and wear a face covering while making any final preparations. Attached is a checklist of some additional tips to be prepared for the storm. For more information and planning resources, visit brla.gov/hurricaneprep.
Stay safe, everyone…
GATHER SUPPLIES FOR YOUR DISASTER KIT!
Have a 3 day supply for each person in your household.
Include medication, disinfectant supplies, cloth face coverings, personal hygiene items, personal identification, and pet supplies in your kit.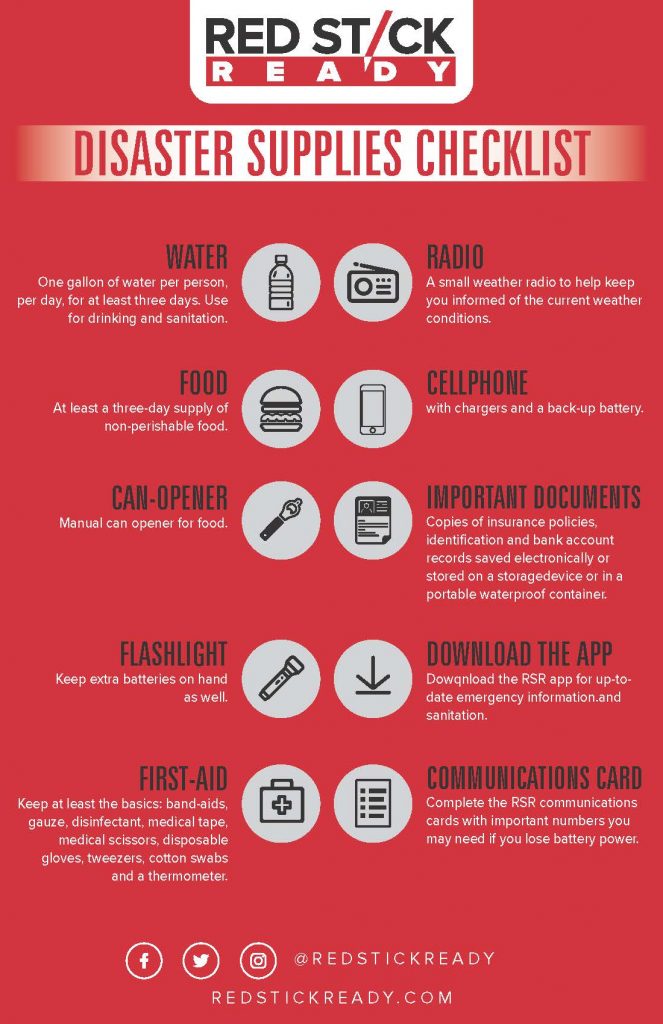 PREPARE YOUR HOME!
Trim or remove damaged trees and limbs.
secure loose items and clear gutters.
Fuel your vehicles, generators, and gas cans. Consider purchasing a portable generator and additional gas cans.
Check your insurance coverage. Keep a copy with you – paper or electronic.