An Oak tree is a daily reminder that great things often have small beginnings. – Matshona Dhliwayo
Oak trees represent timelessness, strength and good luck and are some of the most magnificent trees found on earth. We have 164 fabulous oak trees that are in desperate need of care along the boulevards on Park Boulevard, Cherokee Street, Kleinert Avenue and Terrace Avenue.
The Garden District Civic Association met with the City, and there are currently no City funds to assist us in caring for the trees. Therefore, it is our responsibility as conscientious citizens and neighbors to help our majestic oak trees. After several years of quotes and discussion on how best to care for the tress, the Association received an amazing offer from Bayou Tree Service to provide care for all of our trees for approximately $175,000.
The Live Oak Love Collective is a campaign launched by the Garden District Civic Association to care, prune, fertilize, and amend the soil for the oak trees along the boulevards on Park Boulevard, Cherokee Street, Kleinert Avenue, and Terrace Avenue. These funds are separate from annual dues. The GDCA has established the Garden District Beautification 501(c)3 so that donations to the effort to care for the oaks are tax deductible.
In January 2021, the Association cared for twelve trees on two medians: Cherokee between Camelia and 22nd and Kleinert between Camelia and Perkins. These medians were selected by the GDCA and Bayou Tree Service because these trees were in desperate need of care; as a demonstration project to highlight the need for maintenance; and to raise awareness for the Live Oak Love Collective. Anyone who braved the streets after the February ice storms will have noticed there were no large branches and few branches of any size that fell from the two maintained medians. Check out the map!
Here's How You Can Help!
Donate!
To keep costs low, we must raise the funds to do an entire median at a time. It's a $1,000 to prune, mulch and care for one (1) tree. Pruning these enormous oaks would typically be upwards of $5,000.
Sponsoring one (1) tree on a specific median does not mean that one tree will be pruned. Again, we must have all the trees on a median sponsored in order to have them serviced. You can donate any amount or sponsor a whole tree.
Reach Out to Neighbors!
Talk to your neighbors, peer pressure your loved ones, and help us keep the Garden District the beautiful place it is. If you live along a boulevard, please consider reaching out to your neighbors and adopting your median. It's a $1,000 to prune, mulch and care for one (1) tree. 
Become a Sponsor
We are also looking for big sponsors. If you a looking for ways to get advertising and news coverage for your business or organization, look no further. Become a sponsor. The GDCA created a non-profit to care for these majestic beasts so your donation is tax deductible!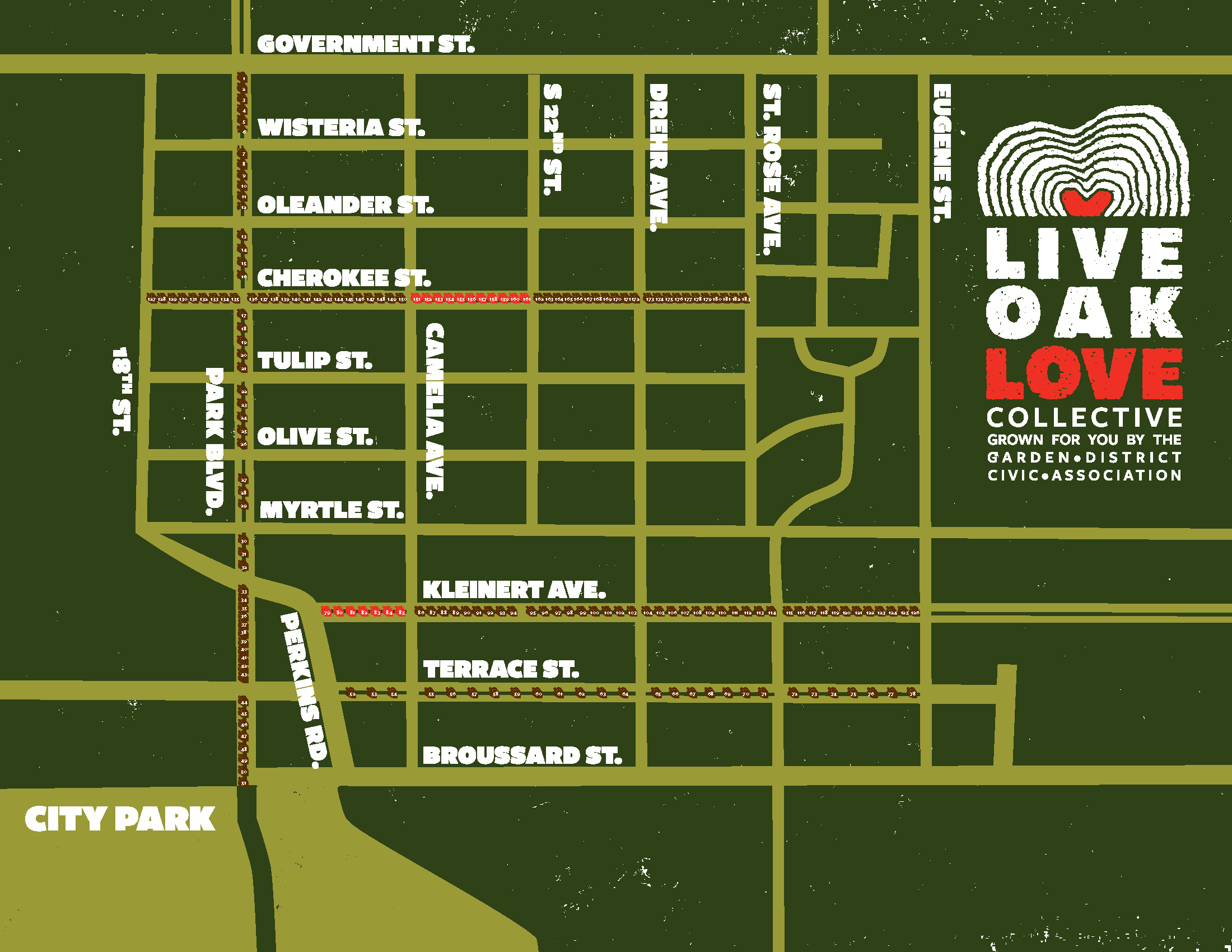 Live Oak Love Collective