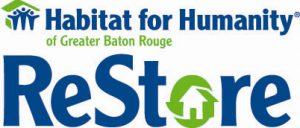 The Garden District Civic Association is privileged to have corporate sponsors who support our neighborhood Association. These sponsors provide monetary and in-kind donations to advance the mission of our Association. We are spotlighting these Corporate sponsors to make our members aware of these generous benefactors and encourage everyone to support their businesses.
This month we are spotlighting Habitat for Humanity of Greater Baton Rouge ReStore. Information was provided by Lynn Clark, Executive Director, Habitat for Humanity of Greater Baton Rouge.
Habitat for Humanity International was founded by Millard and Linda Fuller in Americus, GA, in 1976 as a way to bring the community together to build decent homes for those in need. The Federation of Churches and Synagogues brought the concept to Baton Rouge in 1988 and an affiliate ñ Habitat for Humanity of Greater Baton Rouge ñ was established in 1989. Habitat for Humanity of Greater Baton Rouge is a Christian-based ministry that builds and renovates houses in partnership with the community. They provide opportunities for families in need to purchase their own homes, build community and improve their lives.
The ReStores are a social enterprise modeled after the Salvation Army and Goodwill stores but focus on building materials.The ReStores are Habitat for Humanity's home improvement, not for profit retail stores and donation centers that sell new and gently used furniture, appliances, and building materials. 100% of proceeds from the ReStores are used to help fund Habitat for Humanity in Baton Rouge. To date the Baton Rouge area ReStores have helped to raise funds to build homes for 14 families. The first ReStore in Baton Rouge, Restore North, opened in 2003 at 4301 Airline Hwy. In 2016, ReStore Southeast, was opened at 10300 Perkins Road.
The ReStore is unique in that it promotes recycling and keeps building materials out of landfills. For every $1 in Habitat ReStore sales, an estimated 1.3 pounds of waste is kept out of local landfills! In addition, all the money made helps build more affordable Habitat homes in our community.
The two Restore locations employ 32 full and part-time employees. They offer free donation pick-ups for large items to residents' homes. Donation trucks operate Tuesday through Saturday from 8:30am-4:30pm. Residents are able to schedule donation pick-ups through a self-scheduler on the website, or by calling the donation line. All donations are tax deductible.
ReStore Donation Line Self-scheduler: habitatbrla.org/donate-to-the-restore
Phone: (225) 315-0127
More information is available on their Facebook page at: @batonrougerestore
Ms. Lynn Clark states that the ReStores are an important part of Habitat for Humanity's funding. Almost all of the materials in their stores are donated by businesses and homeowners. Restore seeks donations from home owners, businesses, organizations, and contractors that have available furniture, appliances, building materials, or home goods.
ReStore offers various seasonal promotions that take place on certain holidays. Also, their inventory changes on a daily basis therefore, sales and discounts are frequent.
Regular special discount days include:
Tuesday: seniors (55+) receive 15% off
Thursday: military, first responders, and veterans receive 15% off
Finally, Ms. Clark says, "As a non-profit our mission is focused on the concept that everyone deserves a simple decent home to live in and thrive. We work alongside other affordable housing providers to end poverty housing in our community."
If you are remodeling an existing home or building a new home, please consider making a donation of new and gently used furniture, appliances, and building materials. Also, if you are in the market for any of these items, visit one of the ReStore locations to make a purchase.